Non-metallic Expansion Joint
AP Connector
AAMNo.
AP Connector is a non-metallic expansion joint used for the expansion part of bellows employing cloth and resin materials.
It combines the elasticity of nonmetal with a free range of materials to produce a variety of results, and can insulate duct piping against displacement, vibration, and/or stress.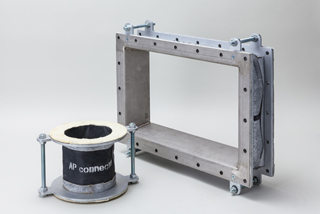 Features
Used with cloth or resin in flexible areas to absorb complex displacement and ensure superior flex resistance
Handles corrosive exhaust gas resulting from usage of PTFE film
Shows greater absorption of displacement than metal expansion joints, reducing the number required in individual (single) equipment lines, allowing narrower installation widths (interface)
As the basic component is cloth or resin, less reaction occurs in the equipment line, easing duct layout including supporting positions of duct.
Available in any shape, such as round, square, and atypical, with large bore
Usage
Exhaust gas systems in boilers and gas turbines
Ventilator systems
A wide variety of smoke and exhaust gas systems
Openings or duct systems of flue gas desulfurization and denitrator equipment
Air-exhaust ventilator and dust collector openings
Maintenance
Expansion joints absorb expansion and contraction of ducts and peripheral equipment, easily allowing the load to be concentrated; however, as deterioration occurs over time, they must be changed regularly.
A&AM conducts the following maintenance inspections:

1)

Visual exterior checks, palpation, noise checks (in operation and under suspension)

2)

Surface temperature observation via infrared camera (in operation)

3)

Inspection of internal heat-insulating materials via borescope (under suspension)

4)

Sampling analysis

5)

Other (wall thickness inspection of fluid contact metals, etc.)

Timely repair / replacement of parts showing deterioration prevents any damage from progressing to a serious stage.
Please inquire with any further questions concerning maintenance.
Other
Further information on handling precautions and safety issues is contained in the safety data sheet (SDS) of each respective material.
Inquiries
Online Inquiries
Direct Inquiries
A&A Material Corporation
Industrial Products Sales Department
TEL:+81-45-503-7784