Carrier Roll for High Temperature Rolling
Disc Roll
AAMNo.
2055,2057,2055-3S,2055-HA
Disc Rolls are the punched discs from millboards, inserted in shafts and laminated, and then fastened and polished into conveyor rollers for high heat-treatment materials.
Millboards are made primarily of heat-resistant inorganic fiber and they are molded paper products manufactured with heat-resistant fillers and organic binders.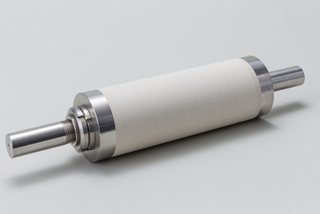 Features
Demonstrates ongoing stability with stainless steel veneer lines at 1150-1200℃ for prolonged periods
Exhibits moderate hardness and superior adiabaticity, with a firmness yielding outstanding abrasion resistance
Minimal linear shrinkage enables stabilized conveyor functions without deformity over the long term.
High adiabaticity preserves roll surface temperature, suppressing cooling energy loss from the shaft and contributing to energy conservation.
Usage
Conveyor roller for high heat treatment material, for use with stainless steel veneer continuous annealing furnaces
Conveyor roller for high heat treatment material, for use with a wide range of plate glass, slow-cooling furnaces
Physical Properties
(Physical Properties of Millboards for Disc Rolls)
Characteristics
Unit
AAMNo.
2055
AAMNo.
2057
AAMNo.
2055-3S
AAMNo.
2055HA
All-purpose Type
Low Scale-adhesion Type
Low-abrasion Type
Ultra Heat-resistant Type
Bulk Density
g/cm3
0.8
0.8
0.9
0.8
Thermal Shrinkage
1100℃
Post-treatment
Longitudinal
%
3
3
2
1
Lateral
4
3
3
1
1200℃
Post-treatment
Longitudinal
4
3
4
1
Lateral
5
4
5
2
Tensile Strength
100℃
Post-treatment
Longitudinal
MPa
3
4
4
3
Lateral
2
3
3
2
400℃
Post-treatment
Longitudinal
0.2~0.4
Lateral
0.2~0.3
Chemical Composition
SiO2
wt%
35
32
32
32
Al2O3
39
45
42
42
CaO
3
2
4
4
MgO
9
8
8
8
Other
1
1
1
1
Ignition Loss
13
12
13
13
*The values in the technical data given above are typical test results and are not guaranteed.
Thermal Conductivity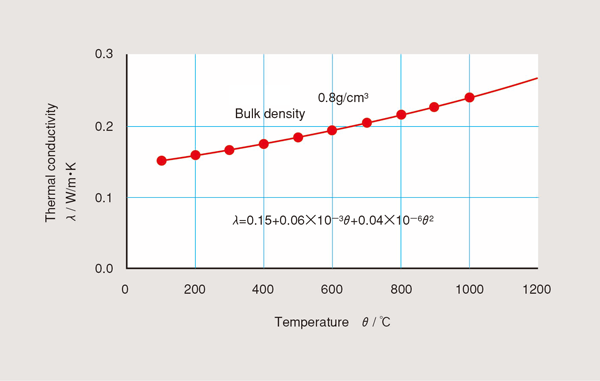 Handling Precautions
1)

Do not allow the Disc Rolls to absorb moisture.
As the rolls absorb moisture easily, they should be stored in a dry location. They should not be exposed to rainwater and should not be kept in a humid location.

2)

Rapid heating and cooling pre-/post-usage should be avoided.

The roll should be installed in the furnace at 600℃ or less, and the prescribed temperature should be achieved over the course of 2-3 hours.

Cooling should occur over a period of 3-4 hours until the furnace reaches a temperature of less than 500℃. Cooling should not occur rapidly.

Note :

Rapid heating/cooling can lead to cracks in the roll surface, impacting future use.

3)

When used at a high temperature, the shaft (metal core) should be cooled.

Note :

Exact temperatures vary according to the shaft material and operating conditions, but approximately 700℃ is the approximate target. When cooling with water, coolant flow should be ample.

4)

Mechanical shock should be avoided.
Disc Roll surface is polished, and requires careful handling. In particular, note that after heating, Disc Roll loses some firmness.

5)

Tools should not be suspended from the roll surface.
Wires or slings suspended from the roll surface may cause damage.

6)

A&AM cannot be held responsible for any failure caused by nonconformance to the above cautions, and/or any actions taken to obstruct proper performance of Disc Rolls.

7)

Kindly refer to the Safety Data Sheet (SDS) before use.
Other
Kindly refer to the Disc Material (millboard) Safety Data Sheet for further information on handling precautions or safety issues.
Inquiries
Online Inquiries
Direct Inquiries
A&A Material Corporation
Industrial Products Sales Department
TEL:+81-45-503-7784